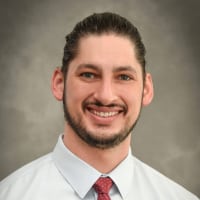 Spencer Cross
DNP, CORLN
Spencer Cross, DNP, CORLN, started his education at North Central Michigan College and has recently earned his Doctor of Nursing Practice degree from the University of Cincinnati. Dr. Cross is a Board-Certified Nurse in Otorhinolargynology and Head-Neck Nursing.
Dr. Cross joined Great Lakes Ear Nose & Throat Specialists in June 2021. He loves the opportunity to see patients directly and address their concerns in the here and now. Dr. Cross hates to leave any rock unturned and values the freedom he has to truly figure out what's going on with an individual.
In his spare time, Dr. Cross enjoys mountain biking on local trails, doing CrossFit workouts in his garage, powerlifting, woodworking and running drills at the firearm range. He lives in Petoskey with his wife, Jozlynne, their two dogs, Chief and Copper, and cat, Todd.