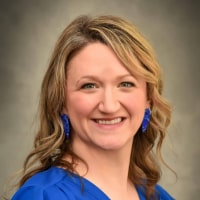 Kaley Mason
NP-C
Kaley Mason earned her Bachelor of Science in Nursing at Lake Superior State University and her Master of Science in Nursing at Walden University. Kaley is nationally certified as a Family Nurse Practitioner by the American Association of Nurse Practitioners and is a member of the Northeast Chapter of Michigan Nurse Practitioners.
Kaley joined Great Lakes Ear Nose & Throat Specialists in October 2018. She is grateful for the supportive environment of the clinic, the friendly staff and the knowledge of Dr. Gietzen. Kaley specializes in general ear, nose and throat practice.
In her spare time, Kaley enjoys spending time with her husband and twin boys on the lake, boating, paddle boarding and watching sunsets.