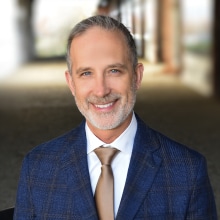 Kevin L. Gietzen
DO
Kevin L. Gietzen, DO, received his undergraduate degree from the University of Michigan and completed his medical training at Michigan State University College of Osteopathic Medicine. He went on to complete his residency at Botsford General Hospital in Farmington Hills, Michigan.
He is dual board certified in otolaryngology and facial plastic/reconstructive surgery by the American Osteopathic Board of Ophthalmology and Otolaryngology. In addition, Dr. Gietzen is a member of the American Academy of Otolaryngology – Head and Neck Surgery and the American Academy of Otolaryngic Allergy.
Dr. Gietzen has a special interest in facial plastic/reconstructive surgery for the surgical treatment of facial skin cancers, endoscopic/ minimally invasive sinus surgery, and thyroid nodule management.
In his spare time, Dr. Gietzen enjoys skiing, being outdoors, and spending time with his wife, Tes, and their 4 children.