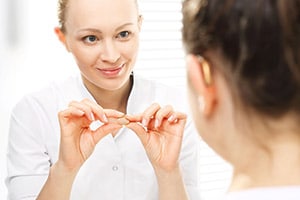 Hearing loss is a problem that affects an estimated 48 million Americans. Fortunately, 9 out of 10 people with hearing loss can benefit from wearing hearing aids. With an improvement in hearing aid technology and smaller devices with a more natural sound quality, over 70% of hearing aid users would recommend hearing aids to a friend or loved one with hearing loss.
When choosing what hearing aids are right for you, it is important to discuss with your audiologist your listening needs, lifestyle, cosmetic preferences, and finances. Your audiologist can discuss the options best suited to your type and degree of hearing loss.
What Are Your Lifestyle Needs?
Whether your lifestyle includes enjoying quiet, intimate gatherings with a few close friends or an active lifestyle that includes a lot of background noise, there is a hearing aid designed specifically for your activity level.
Functionality is an important consideration when it comes to choosing hearing aids. Some popular features include:
Rechargeable batteries
Advanced noise reduction
Tinnitus relief
iPhone/ Android connectivity
Automatic volume control
Discuss with your audiologist your lifestyle needs and which hearing aid features may benefit you at your next appointment.
What Is Your Cosmetic Preference?
Cosmetic preference is a key factor in choosing hearing aids. Since you'll be wearing them every day, the hearing aids have got to not only feel good but appeal to your confidence. Hearing aids are available in a variety of sizes and styles, some visible while others sit deep within the ear canal, rendering them virtually undetectable.
When choosing a style, dexterity and vision problems should be taken into account. Some styles of hearing aids are small with very small batteries and parts, making them difficult to handle and take care of.
Talk with your audiologist about your cosmetic preferences and dexterity and vision needs when selecting new hearing aids.
What Is Your Budget?
Finally, there is cost. Price will be a factor but be sure to consider your specific hearing needs when making this decision. Investing in a cheap hearing aid that is ineffective is a waste of money; conversely, you don't want to overspend on features that won't benefit you. Your audiologist can offer suggestions that will point you in the right direction on the best hearing aid for you and your needs.
Call Great Lakes ENT Specialists at (231) 489-8151 for more information or to schedule an appointment.